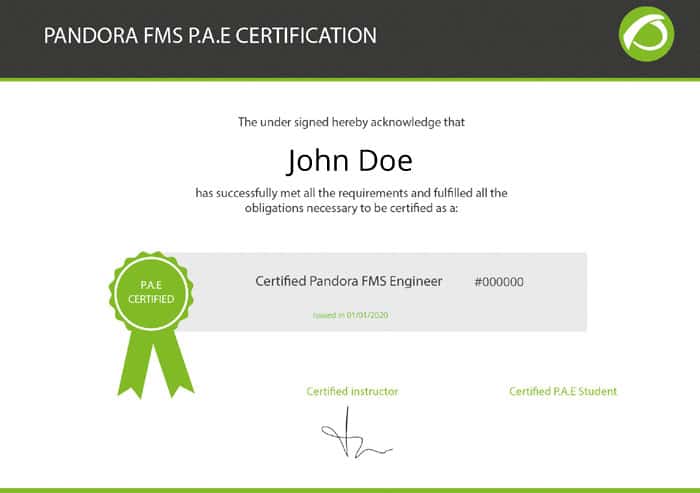 Our software is one of the most powerful and flexible ones in the market, and it offers several possibilities. Therefore, learning all its secrets is not an easy task. The official documentation of Pandora FMS covers more than 1500 pages. Of course, you can dive into it, watch videos or even read the code. But you may prefer an extra help to save time.
Our training programs are adapted to different types of users: from those who use the Community version to our Enterprise version clients who need to train a team capable of managing the already working Pandora FMS console.
25% OFF ON OUR OFFICIAL PANDORA FMS COURSES

Customized face-to-face courses
We can also come to your premises to train your team, adapting ourselves to your specific needs (PAT, PAE, PAO, PAD).

e-Learning Platform
Your technical staff will be able to learn how to work with Pandora FMS, step by step, at their own pace, in their own language and workplace. After each unit you will find self-assessments with examples and solved exercises in order to obtain a certification in PAT and PAE.

Official certifications
We have an official theoretical and practical test, which guarantees minimum knowledge. This certification is validated by Ártica ST, as manufacturer and leader of the development team.
Discover our monitoring courses
Training modalities (25% OFF)
*Prices dolars: $180 OFFICIAL CERTIFICATIONS, $299 E-LEARNING ACCESS, $3500 TRAINING+CERTIFICATION *Promotion valid until October 05 2020. All prices are per person and per course